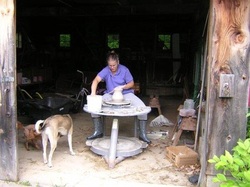 Me and my dog enjoying a beautiful Vermont day
I have been a Mac fan for my whole life as a computer owner. But, they have let me down by ending their support of IWeb, which was the super-straightforward website making software for dummies like me. It's time to update the operating system on my limping-along desktop computer and I will lose my tried and trusty website application :(.
My server, Fat Cow, includes a user-friendly website builder (as friendly as you can get for being non-apple anyway). So, I have jumped off the cliff and this is my first attempt to build a new site.
This blog feature is new to me too so, I hope I remember to use it and that I post interesting and/or amusing bits from time to time.