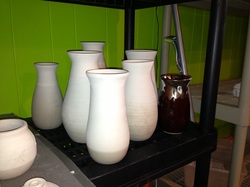 When I was away last weekend I got a request for a set of 3 vases. I had one completed vase and I needed to make 2 to round out the set. Well, with special orders, I always make extras to have insurance for kiln catastrophes and other variables that can muck up the works. When I got up on Monday morning I got to work.

Then it got COLD in New England and my basement stayed DAMP.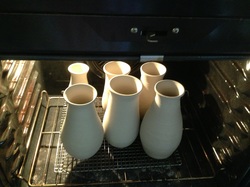 My studio is gearing up for our big Show & Sale and the deadline for (completely dry) greenware is today. My vases are still damp so I am trying something a wee bit strange and possibly slightly risky. I am drying the vases in my kitchen stove. I have my fingers crossed that 200 degrees (I can't set my electric oven lower) is enough, but not too much, heat to make these moisture free by the time the Patriot's game is over..........
If they all come out in the end, 3 will go to Arkansas (HOORAY for adding another state to my list) and the rest will be up for sale the weekend before Thanksgiving. Show & Sale info is at
www.pottersplace.info